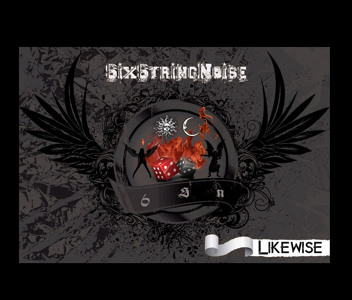 One of my favorite parts of this blog is that musicians seek me out and ask me to listen to their stuff and tell the world what I think.
In this case, a a Greek band called SixStringNoise. They started as a he, Markos 6SN wrote and recorded a debut in 2010, and now they are a they and have released their debut record: "Likewise." This album intrigued me greatly. In the email I received there was a list of American and Canadian hard rock bands as influences, many of whom I enjoy. I cannot say I've ever heard any Greek Music aside from the bouzouki players at the annual Greek Festival around Labor day in my home town of St. Louis.
I suppose at this point, rock music has gone global. After all, how much of American music wasn't stolen from English musicians who stole it from American blues players?
Not much!
This album starts off rocking, and so far, hasn't stopped yet! It's got a very good arena rock vibe to it, though it's a touch heavier than what most of us here in the States would call Arena Rock.
I'm sure most Americans will agree that it's good that the lyrics are in English. I can't say I disagree either and I consider myself a paragon of multiculturality who speaks a few languages, but finds it hard to get into music in another language and this includes others that I speak fluently.
How can I describe this guitar sound? Very clear sludge. For the rhythm guitars, I would dial back the lows a touch and boost the mids to get a slightly more articulate guitar sound. The guitars are big as life, expertly played, and appropriately flashy for hard rock, but just need to sound a little bit clearer. To my ear, it sounds like they're using active pickups, and they should just be a touch brighter is all.
The songs are put together very well and the solos are deftly performed with some nice showing off for the genre. For the rhythm work, there isn't really any guitar interplay. There are little lead snaps, a pinched harmonic here, a double time chord section there, but the big guitar theory is in full force here and the wall of sound is built high.
Though I'm largely not really a fan of vocals, I find the singing on these songs to be refreshing, even if they might be turned up a hair too high in the mix. The vocals have a slight Myles Kennedy-style bite to them which really helps them cut through the guitars and drums.
What I really enjoy about these songs is the groove which starts on the drum kit. The drumming is never too much or too little, but right in the pocket which allows the rest of the band to get on the bus and the result is a great hard rock record that's varied enough to enjoy all of the way through. At $3 to download the album from bandcamp, how could anyone go wrong?
Preview and Purchase Album Here
Year: 2013
Genre: Rock
Tracklisting:
1) Busted!
2) You can do better
3) Prayer collision
4) On childhood's river
5) Dark slimy thing
6) Circulations
7) This time
8) Everybody's gonna turn around
9) El monstruo
10) Backyard's Fence
11) Has to be (Bonus track)