Here is the first album by the newly reformed The Darkness in about 7 years. Apparently, they had broken up for about five years and decided to give this another go. Based on this particular record, I think we should all be quite glad that they did!
Recently, while reading the music section of
My Les Paul.com
someone posted about the greatest Les Paul tone in the world, and it was this band. Well, the curiosity's piqued and well, does this band really have a great Les Paul tone?
In a word, yes. The guitars are this album not only sound spectacular, but they were recorded expertly. In fact the production quality on this record is just top notch. It's always a wonderful thing when an album has been recorded well because the listener only focuses on the music.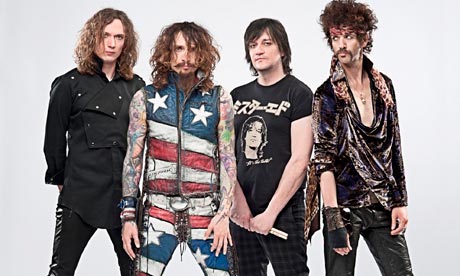 Damn Weirdos
This album kicks off with "Every Inch of You" which is a great introduction for the first time listener. This song gives you all the ups, downs, strengths, and perceived weaknesses of this band.
The guitars come in big as life. The rhythm section holds it down and after vocalist Justin Hawkins screams about what every man, woman, and child wants to do, it's become plainly obvious that this band is talented and they're, hopefully, not taking themselves or the world too seriously.
Justin Hawkins, not to be confused with Dan, has three gears to his vocals: rock, high pitched, and dog ears. Normally, high pitched, especially super high pitched, vocals are not appealing to me, but Mr. Hawkins has found a great mix and keeps his vocal melodies fresh and ever changing. This is a great antidote to many vocalists who frankly ruin albums by not being able to sound like more than one thing. He also writes some very cool lyrics that have a bite and wit to them. These songs certainly aren't poetry, but they're fun to listen to.
Musically speaking, this disc is full of hard rock chops. There are quite a few guitar leads, at least enough to keep your friend and humble narrator interested. The drums and bass never falter. This album rocks, rolls, and tells a joke or two.
I cannot tell you what this band is going for or what they hope to achieve, but I can tell you that this record is a great entry into the modern canon of rock. Buy it.
Genre: Hard Rock
Year: 2012
Run time: 40:39
Tracklisting:
1) Every Inch of You
2) Nothing's Gonna Stop Us
3) With A Woman
4) Keep Me Hangin' On
5) Living Each Day Blind
6) Everybody Have A Good Time
7) She's Just A Girl, Eddie
8) Forbidden Love
9) Concrete
10) Street Spirit (Fade Out)
11) Love Is Not The Answer