This album has a really cool cover. It caught my eye and then a google search was done to find out something about this record. Google came back with it being an indie lo-fi album.
The moment when I became a fan of lo-fi rock is very clear to me. I saw the Black Diamond Heavies at the Schlafly Tap Room opening for Exene Cervanka and The Original Sinners. Since then the audio quality of my music library has taken a hit, but often times for the better.
A good lo-fi record, that has well written and crafted songs, can wonderfully encapsulate and "recreate" the vibe of early rock'n'roll when dirty guitars weren't created by stepping on your distortion pedals, but by diming the knobs on the amp because volume was more important than clarity because even though they were playing professional gigs, the musicians couldn't afford amps big enough for the place. Ah, early rock'n'roll and blues and it's amazing how a Lo-Fi record can capture that spirit!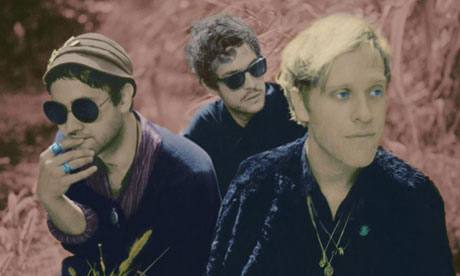 To begin with, it's not really clear just how "lo-fi" this album is. It starts of very poppy and there is a pretty good clarity to the sound of the recording. It may be possible there's some confusion as to what Lo-Fi means, but for the sake of this, it will be ignored.
What was striking about this record is the drumming. The drums are militarily precise and a good addition to the song as an instrument and more than just a time keeper.
The guitars are there just to flesh out the song and range from melodic lines played on a wah wah pedal to crunchy, staccato, rhythm riffs. There are three members of the band and third would be the bassist, Jake Portrait, but listening to the album his presence wasn't readily apparent to me, or at least not audibly apparent. His playing did not appear to have made it strongly into the mix.
Overall this is an interesting album that has not left an indelible impact on my psyche. It was difficult trying to pick out the direction of this album. It somewhat felt like the musical love child of Micheal Jackson (Thriller era) and Pink Floyd, but it lacked some grandeur. It will take some more listens to truly get a feel for this album, but there are no regrets in having it. I do like this album, but I need to explore it some more.
Year: 2013
Genre: Rock, Indie Rock
Tracklisting:
1) From The Sun
2) Swim And Sleep (Like A Shark)
3) So Good At Being In Trouble
4) One At A Time
5) The Opposite Of Afternoon
6) No Need For A Leader
7) Monki
8)Dawn
9) Faded In The Morning
10) Secret Xtians