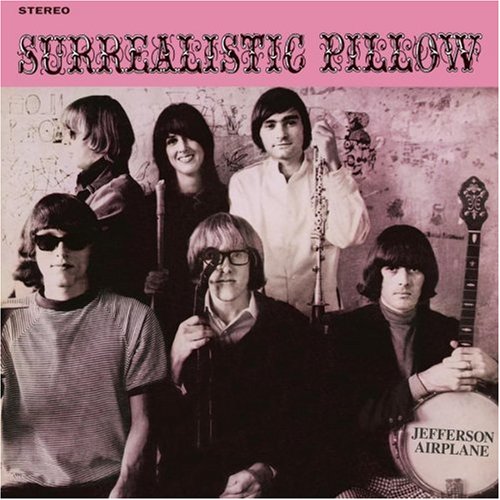 Looking backwards in time and thinking of
Patricia Kennealy's book.
In that book, though she famously loved the Doors and Jim Morrison, she referred to Jefferson Airplane as her favorite band.
How is it that their music has never graced my stereo?
Well, that's about to change. I won't even go into that time I saw Starship live whilst working for Kiel Center. It's frankly just too painful and frankly, there's not much I could even recount about it now as that show as in 1995....
The Airplane, as we all know, is a psychedelic band from the late 60's that featured the inimitable, Grace Slick. It is equally pleasing and infuriating to me that Grace Slick has stuck to her guns about not performing after she had reached an advanced age, by rocker standards anyway.
It would be hard to believe that there is a single American under the age of thirty who's unfamiliar with the song "White Rabbit" or "Somebody To Love," but I'm going to write about it anyway.
For lack of a better way of putting it, this album would have to be called their Magnum Opus, and it is a really great place to start in their catalog. The aforementioned songs which were sung by Grace Slick, are some of the best songs of the 60's Peace and Love Era. Rabbit is a particularly subversive track because it takes a wonderful children's story and through only describing the movie it turns it into something darker.
Like most bands with more than one singer, there is a significant amount of changing up of styles between the songs. The songs that were either sung wholly or partly by Grace seemed to be the most interesting to me. Aside from the blues track, "In The Morning" and the delightfully crazy "Plastic Fantastic Lover," the Grace songs are what truly make this album something special. Her voice, though technically imperfect, has a very wonderful strength to it. There always seems to be a lyrical subtext in the timbre of her voice. The other voices just don't have anything special to them, so though the music is not perceptibly better, her voice and passion make the songs better. (Look at that, vocals made the difference for once.)
This is definitely an album that should be in all of our collections.
Year: 1967
Genre: Rock, Psychedelic Rock
Tracklisting:
1) She Has Funny Cars
2) Somebody To Love
3) My Best Friend
4) Today
5) Comin' Back To Me
6) 3/5 Of A Mile In 10 Seconds
7) D.C.B.A.
8) How Do You Feel
9) Embryonic Journey
10) White Rabbit
11) Plastic Fantastic Lover
12) In The Morning
13) J.P.P. MC Step B. Blues