I learned today that Kiss has made the Rock'n'Roll Hall of Fame! You may recall that Kiss is my favorite band. Quickly I'm running out of reasons to be offended by the Museum in Cleveland.
I've long been a fan of Kiss. I remember having a copy of Killers on import cassette (no idea why) at age 8. I remember seeing them take their makeup off and seeing "Lick It Up" for the first time.
I have purchased every one of their albums, most of them twice at least. I have Kissology 1, 2, and 3 on my shelf and I'm angry that 4 hasn't arrived yet. I have KISStory signed by the four original members. I dressed in Kiss make up for a show my band did. I have seen at least five Kiss tribute bands. I went to see Kiss in Ace's make up. Simply put, I'm a big, big fan of this band.
Now comes the awkward part...there have been about seventy five people in and out of Kiss, both officially and unofficially. Which of them should be inducted? I'm going to give you a run down on all of the replacement members starting with Mr. Eric Carr.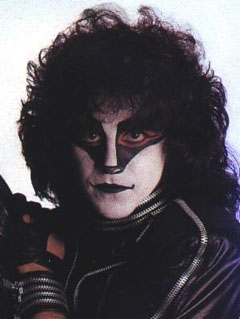 The Fox
Eric Carr
(RIP) was the replacement for one Peter Criss, who should be in by fact of being on the first record.
Eric was chosen after exhaustive auditions after Peter chose to walk away or being fired for being an ass...take your pick
Why he should be in
: Eric Carr was in makeup. That in and of itself should be enough to have him in the induction.
Going beyond that though there is more!
Eric made frog noises behind Gene Simmons while Gene was recording vocal tracks for Music From The Elder.
He also was the drummer on Creatures From The Night. This is by far the best Kiss record without the original members until 1992's Revenge! The drum sound on that record was epic.
Why he should be out:
Eric Carr was only on one good Kiss record.
Yes, Elder is great because it's so terrible, but he frankly was the drummer during the Kiss dark ages.He also made Gene look bad. Gene was going bald in the 80's and Eric had such MASSIVE hair.
Ankh Head
Vinnie Vincent
was the man who replaced Ace Frehley in 1981-ish after Ace left the band.
Vinnie was one of the session guitarists who worked on Creatures of the Night and during the process he just decided that he was in and even though Gene and Paul were auditioning...they never found anyone, so Vinnie got his way.
Why he should be in:
Like Mr. Carr, Vinnie had his own trademarked Kiss makeup and persona.
Only 2 players had that besides the original four. Vinnie also brought a new idea that Kiss could be musical. His additions to Creatures were not only playing, but writing. That's a pretty big deal right there.
He also cowrote the vast majority of Lick It Up, the first unmasked record and it was not a horrific disc and Vinnie even spawned a few Kiss Classics like "I Love It Loud," "I Still Love You," "Lick It Up," and later on Revenge with "I Just Wanna" and the record's lead single, "Unholy."
Years after Vinnie was tossed, they were still playing his tunes. Alive III, Alive IV, and Alive Millennium all had Vinnie Co-writes on them at 10, 20, and 15 years after his firing respectively.
Why he should be out:
Well, my first thought is that Vinnie is a total douche, but if that were a valid reason, only the ghost of Eric Carr would be inducted!
Vinnie Vincent never even signed the contract to join Kiss. So technically, he was never IN KISS! Knowing Gene and Paul, this would probably be their reason to keep him out. Vinnie also wore a damned ankh on his head. Seriously.
I'm a buzzing bee.
Mark St. John
(RIP) came in after Vinnie just kept refusing to sign the contracts and played on a single album, Animalize, and only played about 5 shows with Kiss.
Why he should be in:
As Gene and Paul have said numerous times, all the members of the family are important.
Mark came in when Gene and Paul were looking for an 80's hair metal fretboard fireballer, and they got that in Mark St. John. Animalize was the shreddiest thing this side of Eruption!
Why he should be out:
Animalize is utter shit.
Three Mile Island?
Bruce Kulick
was brought in as a temporary member to replace Mark St. John after his medical issues prevented him from touring.
Bruce's older brother Bob had long been associated with Kiss (even played on Alive II and Creatures in Ace's stead) and finally convinced Gene and Paul that they should hire Bruce and it later became permanent.
Why he should be in:
Bruce Kulick was a member of Kiss from 1984 to 1996, when he officially left. Those were the worst years of Kiss. He deserves it. Again, just did what he was told, but look at those pants!
Bruce was the most gifted all around player Kiss ever had. He wrote, he played, and eventually sang. He and Eric Carr held up the boomba boomba doodilty doot doodily doot side of Kiss for nearly 10 years together, but all that aside, his work on Revenge and Carnival of Souls (and his work on Psycho Circus..shhh) were just great. I mean, just great. Those records were easily as good, if not better than Creatures of the Night.
One last thing, Bruce, like Ace, has kept the fires alive for Eric Carr. He appeared on the Story of the Fox home video release and he has put out the Eric Carr Rockology CD.
Why he should be out:
1) Those pants. 2)
Dude was in a band with Michael Bolton.
I'll play drums for a dollar.
Eric Singer
joined Kiss in 1991-ish as Eric Carr was battling cancer. Mr. Singer was actually Paul's drummer on the solo club tour in 1988. Eric has also played with Lita Ford, Black Sabbath, and Alice Cooper.
Singer played on Revenge, Alive III, Unplugged, Carnival of Souls, and later the bastardized Kiss records....we'll get to those.
Why he should be in:
If you only count his blonde hair albums, they are awesome and he was the one reportedly, we know how Paul and Gene exaggerate, who was the catalyst for the reunion. He lit the little spark on the Konvention Tours by asking if Peter would like to sing with the band.
Revenge and Carnival of Souls are just great albums. They were really the beginning of a new kind of Kiss that was more youthful, better at their instruments, and really something cool. Unfortunately for us that Kiss fizzled when the reunion happened, but at least they left us a couple of great records.
Why he should be out:
This asshat dresses up like Peter Criss as though he's the Catman. Seriously. Moving beyond that...Eric Singer is the biggest mercenary that's ever been a member of Kiss. As he said himself in Kiss X-Treme Close Up, have sticks will travel.
I look just like Ace Frehely!
Tommy Thayer
joined Kiss first as a production assistant after his band, Black and Blue, fell apart.
After Ace quit Kiss a second time, after the farewell tour, Tommy took over as the first ever Kiss Cosplayer.
He played uncredited on Psycho Circus, and credited on Alive IV, Sonic Boom, and
Monster
.
Why he should be in:
This dude hasn't played on any classic Kiss albums or songs. He hasn't put his own stamp on Kiss like the other lead guitarists.
He just pretended to be Ace Frehley from top to bottom. he even plays Les Pauls just like Ace Frehley! He wanted to be part of Kiss so badly that he took a job being Gene's sandwich gopher for like 10 years till he had the chance to play with them.
Why he should be out:
Ace pretending to have fun in Kiss is better than Tommy Thayer pretending to be Ace pretending to be having fun in Kiss.
Over the years, Kiss has had a long and oftentimes glorious and sometimes embarrassing history. Every person who's performed as a member of the band has helped along the way, by adding their own signature (Except Tommy Thayer).
Kiss truly is the great American Rock Band and I'm thrilled they're finally getting in!